EXECUTIVE DIRECTOR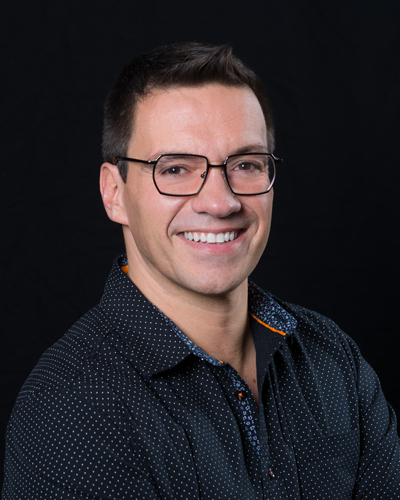 Jean-Philippe Malaty, a leading light in innovative, solutions-driven arts management, began his distinguished career nearly three decades ago. Drawing on his business acumen and a dancer's discipline from classical-ballet training, Malaty transitioned to a backstage role with ease. In 1996, when Aspen Ballet Company founder Bebe Schweppe recruited him, in a durable partnership with artistic director Tom Mossbrucker, to take the reins of her company, Malaty was just 26 years old.
With steady oversight, Malaty led the expansion of a single, standalone ballet studio into a multifaceted arts organization with an annual budget of $5 million and an endowment of $10 million. The Aspen Santa Fe Ballet umbrella structure includes a dance presentation series; a network of community ballet schools, an award-winning Mexican folkloric outreach program, and, for 25 years, an acclaimed contemporary ballet touring troupe, all replicated in two culturally minded cities.
The organization's resident dance company, Aspen Santa Fe Ballet, toured for 25 years on a network of relationships built by Malaty with prestigious presenters, theaters, and venues around the world. In an unprecedented action in 2014, he added a second performance troupe, Juan Siddi Flamenco Santa Fe, under the ASFB umbrella, creating economies of scale between two non-competing dance companies for several years.
Jean-Philippe's personal brainchild, Aspen Santa Fe Ballet Folklórico, the after-school program instilling cultural pride, was inspired by his own childhood memories of Basque folk dancing. Daring at its start-up, the program brings dance to children through the accessible and enjoyable activity of folk dance, rather than the relatively formal European art form of classical ballet.
Malaty's close connection with his board of trustees—leading timely self-assessments and scenario-planning—positioned Aspen Santa Fe Ballet to withstand the shock of a performing arts shutdown of 2020. On the cusp of the company's 25th season, the leadership team undertook a radical transformation, sunsetting its resident performance troupe and launching the Aspen Santa Fe Ballet Fund for Innovation in Dance. This unprecedented, dance-focused resource reflects the organization's value of giving back while honoring the resident ballet company's creative legacy. Malaty co-manages the Fund as it seeks to reinvigorate best practices in the American dance ecosystem.
Jean-Philippe Malaty was born in the Basque region of France. After receiving his baccalaureate in dance, he accepted scholarships to study at Mudra, Maurice Béjart's school in Brussels and at John Cranko's ballet academy in Stuttgart. Invited by acclaimed instructor David Howard to study in New York, Jean-Philippe traveled to America under Howard's tutelage. Jean-Philippe's performance career began with Joffrey II. He also danced as a guest artist with Los Angeles Classical Ballet, Ballet Hispanico, and Lyric Opera of Chicago.
Jean-Philippe has received multiple accolades from the field. He has served as panelist for both the Colorado Council for the Arts and National Endowment for Arts. The Denver Bonfils-Stanton Foundation granted him its Livingston Fellowship in recognition of his leadership role in Colorado's non-profit sector. Jean-Philippe and Artistic Director Tom Mossbrucker were co-honored with the Joyce Theater Foundation Award in recognition of ASFB's contribution to dance. He and Mossbrucker shared an honor when the Santa Fe Community Foundation bestowed its Piñon Award on the company. Jean-Philippe's first love is teaching, and he takes joy in passing to the next generation the learning and inspiration he received from his early instructors, both in Europe and in New York.